Racing Clutch SACHS RCS
Individual Configuration of your clutch
Number of clutch discs
The following clutch assies are offered:
1 disc
2 discs
3 discs
4 discs
The more clutch discs that are used, the more engine torque can be transferred by the clutch. More discs also allow a greater heat capacity of the clutch kit.
Example:
2-disc clutch = double transmittable engine torque.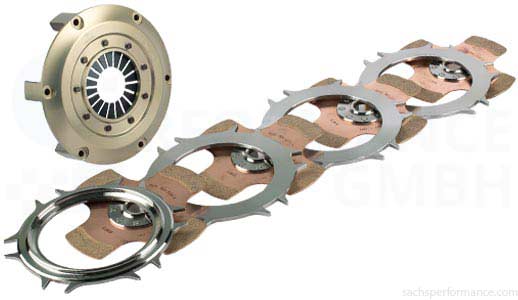 Racing Clutch SACHS RCS diameter
Four clutch diameters (outer disc diameter) are available:
115 mm => RCS 115
140 mm => RCS 140
184 mm => RCS 184
200 mm => RCS 200
The greater the clutch diameter, the more torque can be transmitted by the clutch. The smaller the clutch diameter, the less mass and inertia. This means that low inertia (low mass) allows the engine to ac celerate quickly. Larger clutches can accommodate much more heat and remain completely efficient, when smaller clutches may well be overheated.
SACHS Racing Clutch friction materials
Racing Clutch Carbon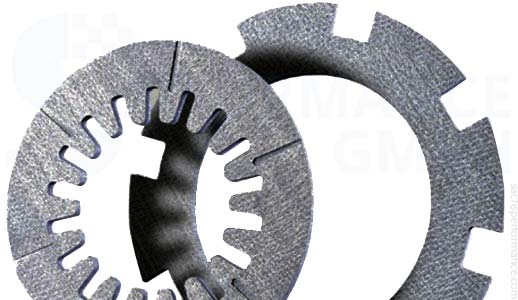 Carbon is the high-tech material from the Formula 1. It is very temperature resistant and very light. This friction material is often used under very severe conditions and provides the possibility of compact lightweight clutches.
Racing Clutch Sinter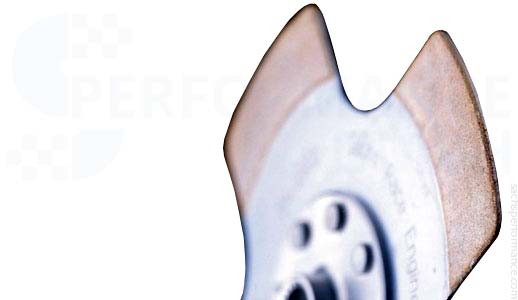 Sinter, due to its very light driven plates, is often used in applications such as circuit/ track racing, formula series vehicles, and touring vehicles. The thickness of each clutch disc is 2.6mm up to 3.4mm.
Racing Clutch Organic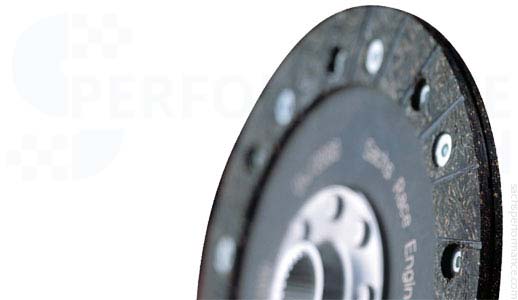 Organic is a soft friction lining and therefore gearbox protective but not very temperature resistant. This type of material is not used in extreme race conditions.
Racing Clutch Sinter-Pad
Sinter-Pad offers high wear range and is often used in applications where there are numerous starts. The thickness of each Sinter-Pad clutch disc is usually 7.8mm. There is also a 5.2mm version available for 3-disc RCS clutches.
Wear range and clamp load
Racing Clutch Clamp load
An engaged clutch creates the clamp load by using a diaphragm spring. The stronger the spring, the more engine torque can be transmitted by the clutch. To operate the clutch the release load must be applied by the driver. The higher the release load, the more difficult it is to operate the clutch.
Racing Clutch Wear range
The wear range covers the wear of the clutch discs. Each racing clutch is designed for a certain wear range within which the engine torque is transmitted safely. Should the clutch plate(s) be used for a period beyond the prescribed wear range, the torque capacity will decrease and the clutch will begin to slip.

Find the right competition clutch