Coilover Suspension SACHS Performance 841500118451
Description
Performance Height Adjustable Kit
Up-side-down system with forceadjustment for rebound and compression
Housing Diameter: 55 mm
Lowering from: 35 mm
Lowering to: 65 mm
Axle load front axle to: 1110 kg
Axle Load RA to: 1050 kg
for vehicles without leveling control
---
SACHS Performance Coilover Suspension -
Maximum Performance for Demanding Drivers.
SACHS Performance coilover suspensions upgrade tuning cars and offer passionate drivers a driving experience with a clear plus in dynamics, sportiness, and comfort.
Only high-quality monotube gas shock absorbers filled with heavy-duty oil are used for the hightech damper. Their special setup and a valve system allowing for the determination of flexible characteristic curves provide maximum sportiness even in the limit range, also for the use well away from public roads.
The required stiffness and strength are guaranteed by suspension struts, designed as upside-down components. They are able to absorb extreme lateral forces and guarantee an immediate, precise response.
The Advantages at a Glance:
Innovative racing technology for the road
Technology transfer from original equipment and motorsports
Monotube gas pressure technology
Upside-down technology from motorsports (highest stiffness)
Rapid and precise responsiveness
High-quality surface finishing for long-lasting corrosion resistance
OE-tested, high-quality racing springs made from highstrength material
Individual, rapid, and precise setting and adaptation of the damping to track, tires, and air pressure possible
Tested and fine-tuned by renowned tuners, our service partner at the Nuerburgring, or the engineers of ZF SACHS Race Engineering
Made in Germany including TUEV-certification

Minimum Efforts – Maximum Individuality.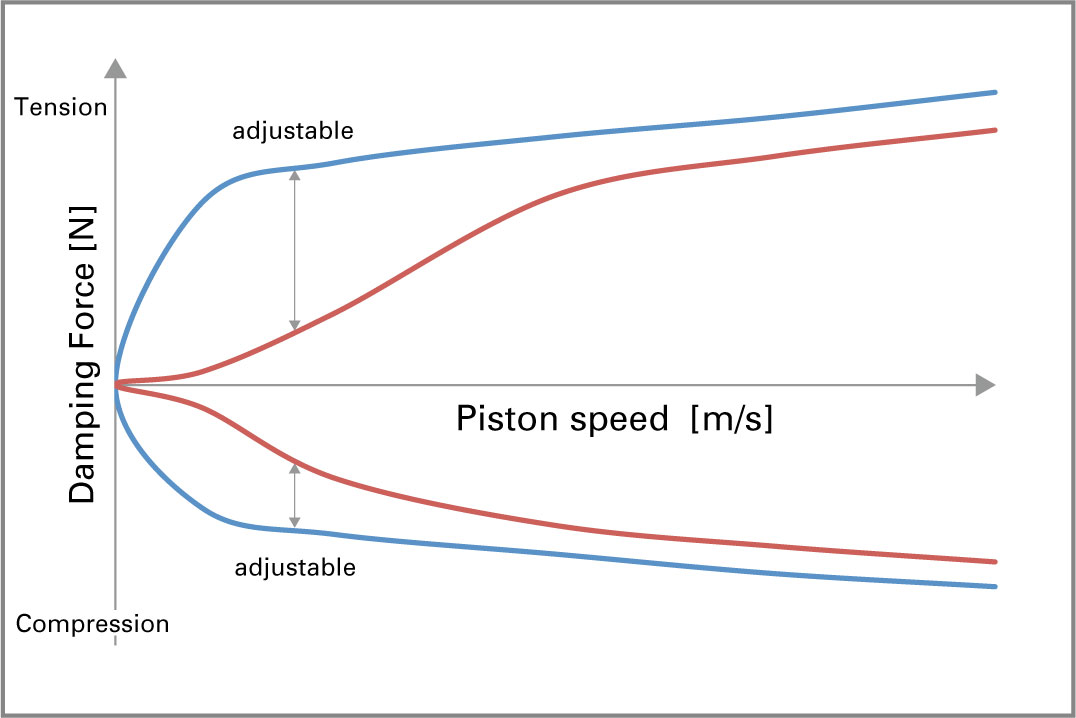 Individual Lowering
Continuously variable adjustment within the range authorized by TÜV (Germany)
Individual lowering for every philosophy
Chassis lowered approx. 20-50 mm (depending on the vehicle)
Separate adjustment of front and rear axle
Dirt-resistant height adjustment and long service life
Trapezoidal screw thread for perfect handling
SACHS Damping Force Setting.
Individual adjustment of rebound and compression damping
Easy and rapid performance adjustment with precise gradation within a broad adjustment range
Adjustable when installed
No tools required
CSS Scope of delivery.
2 x upside-down suspension struts with height and performance adjustment
2 x front-axle springs
2 x rear-axle shock absorbers with performance adjustment
2 x rear-axle springs
2 x aluminum rear-axle height adjustment
1 x component certification
Tuning from Racing Professionals.
Trust in the highest level of motorsports expertise: Whether it's Formula One, Dakar Rally, DTM, Porsche Supercup, or VW Scirocco Cup – on the world's race tracks, successful racing teams cross the finish line with SACHS products.
The diverse experience gained from this commitment is directly incorporated in the development of compelling tuning products. The result: innovative racing technology for the road that inspires tuners and is available under the brand name SACHS Performance
Service.

Partners of ZF SACHS Race Engineering