Greasing the hub Spline of Clutch Disks.
Only if the hub spline is optimally greased, will the clutch work perfectly in the long term.
Why you should grease the hub spline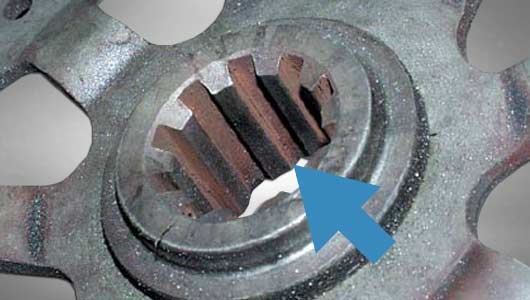 If the clutch disk is not greased correctly when it is installed, then fretting corrosion may occur in the hub spline. In this case, the clutch disk will seize instead of sliding along the transmission input shaft. For this reason, ZF Services expressly points out that it is imperative to grease the spline profile correctly. This allows the clutch disk to move freely along the profile of the transmission input shaft.
Correct procedure
Before installing the clutch disk, check its lateral runout. This may be a maximum of 0.5 mm. Larger values can cause drag.
Afterwards, the hub spline of the clutch disk and the transmission input shaft are lightly greased all around with SACHS high-performance grease. Now, the clutch disk will move easily back and forth along the transmission input shaft and the excess grease is removed from the hub spline and the transmission input shaft.
After all, if too much grease is used, centrifugal forces will transfer it onto the clutch facings during operation. Facings soiled in this way will cause the clutch to grab or slip when driving.
The correct lubricant is important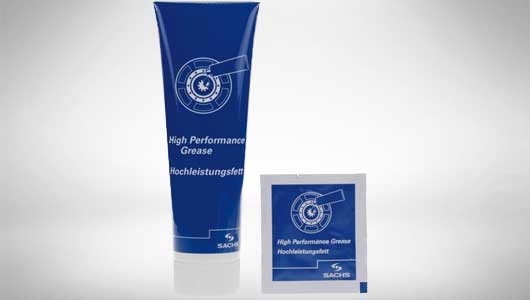 Not every lubricant is suitable. It needs to be temperature-resistant and endure high surface loading. Unsuitable lubricants can become liquid, solidify, become resinous, or burn, and thus cause malfunctions.
Every SACHS clutch kit is supplied with a lubricant pad which is sufficient to lubricate the hub splines once. This high-performance grease optimally meets requirements.Jedes SACHS Kupplungskit wird mit einem Fettkissen ausgeliefert, das für die einmalige Schmierung der Nabenprofile ausreicht. Dieses Hochleistungsfett erfüllt die Anforderungen optimal.