SACHS Formula 1 Carbon Clutch
04.01.2018
The top tier of motorsport is occupied by the Formula 1 cars of Ferrari - the most successful team in Formula 1 history - as well as other racing teams such as Lotus, BMW Sauber and Toro Rosso, all of whom are equipped with shock absorbers and clutches from ZF SACHS.
The SACHS Formula 1 clutch, consisting of 20 individual components, is manufactured by hand and is impressive due to its low weight and extremely slim design. The clutch is shorter than a ballpoint pen and weighs only 1.2kg, therefore only about 10% of a conventional standard clutch.
The carbon clutch has 4 clutch friction discs with a diameter of 97 mm. The low weight of this clutch is achieved by using titanium and carbon fibre. In order to achieve a perfect clutch application, high-strength alloys are also used in accordance with aerospace standards, leading to a high level of rigidity of the titanium clutch housing.
Small but powerful
With an output of up to 1000 hp, Formula 1 engines accelerate the vehicle from 0 to 100 km/h in about 2 seconds. Therefore, the requirements for the clutch are extremely high. - The SACHS clutch can transmit a torque of up to 1,000 Nm, with the highest load being at the start of the race.
A Formula 1 clutch absorbs about ten times as much energy during the startup process. This means that the power density is about 100 times higher than that of a standard clutch due to its compact size.
Thanks to special diaphragm springs and carbon clutch material, a Formula 1 clutch can withstand temperatures of up to 1,200 °C. By comparison, in a standard clutch, the organic clutch plates will burn at temperatures of 450 °C. This means it is also a special challenge to ensure that the clutch will continue to perform at a wide range of temperatures.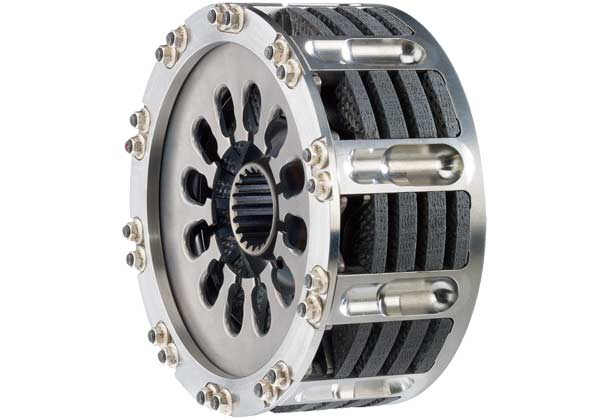 Wear resistance of the clutch
Formula 1 engines are extremely dynamic and have very high power peaks. This means that the clutch is permanently slipping, which therefore contributes significantly to a high level of wear of the clutch. In addition, the clutch must handle up to 4,200 gear changes in a Grand Prix such that as in Monaco.
Racing technology for the road
Our customers benefit from our experience with Formula 1 clutch technology. Our knowledge is incorporated into the
SACHS performance clutch for road vehicles
, as well as in the
SACHS RCS racing clutches
.